Release notes
13 December 2019
FIXED a bug that was preventing admin users sending password reset emails.
12 December 2019
FIXED a bug with file names in exported CSV files.
IMPROVED password reset / setup process
11 December 2019
ADDED the ability to approve requests from the list view, saving a few clicks when approving a batch of requests
UPDATED the underlying Rails framework version
FIXED the 'Remember me' button functionality on the login screen
FIXED error when cancelling an account
26 November 2019
FIXED fields configuration we send to Zapier
ADDED predefined values and missing dropdowns to Zapier updates
IMPROVED handling cases when user should fill a required custom field for Zapier submissions
ADDED more hints for Zapier integration (e.g., the format that the string should have)
FIXED the creation of expenses via Zapier
ADDED extra tests to ensure that all api endpoints work as expected, and that any future changes in the app code will not break integration
ADDED Zapier integration functionality for the upcoming 'Activities' module
ADDED additional test coverage for emails and other functionality to improve future reliability
DARKENED the colours for booked days on the calendar to make them more readable
FIXED email notifications when users add emojis to comments or attachment names
CHANGED the description from 'Locked' to 'Ongoing' to designate time off requests that have started but not yet completed.
FIXED a bug where you could click on a link in an email and get a blank screen instead of the request
12 November 2019
WIDENED the supplier and cost centre drop-down menus.
FIXED bugs with promotional codes when signing up using Google or Office 365 etc.
ADDED option to pay annually in advance
ADDED output of custom fields to Zapier
ADDED the ability create cost centres and suppliers in Zapier
FIXED bug that assigned new sign ups to a generic plan
29 October 2019
UPDATED the link used when you export a calendar to an ICS file
FIXED a bug in the new self-approval option that previously allowed used to switch requests back from 'Taken'
FIXED a bug that, in some cases, when you edit a time off request, took time off days from other previously-edited requests
FIXED a bug that let users click on a link to managers' profiles
CHANGED the way days taken from future accrual years are handled
FIXED links in users' time off statistics
9 October 2019
ADDED multiple 'blackout' calendars so that you can have different calendars for different people, for example, giving people in different countries different bank holidays.
ADDED ability to download all your attachments in a big zip file archive
ADDED ability to give people the option to self-approve PO and expense requests up to a certain amount
IMPROVED test coverage for repeating task
IMPROVED page loading performance on smaller screens
FIXED display of previously booked days off on the time off request page
BUG FIXES various minor improvements and glitches fixed
19 September 2019
FIXED some issues that were causing searches to run slower since the 11 September update
CHANGED what happens when you delete a request. Now, the request must be reverted to Pending before it can be deleted. This releases budgets (for POs/expenses) and holiday days (for time offs). Deleted requests are also now archived rather than permanently deleted and can be restored in some cases on request by Turbine support.
FIXED bug that stopped showing company logos on PDFs
11 September 2019
IMPROVED database performance. You should see noticeable improvements, especially for companies with lots of requests in the system
FIXED the days refunding on deleting a time off
ADDED more automated test coverage for settings pages
FIXED some user interface glitches on mobile, including the placement of the help button
ADDED the ability for company administrators to edit requests without requiring re-approval
FIXED the 404 error after an invited employee set up their account
IMPROVED security to address the 'Zombieload' problem
UPDATED code dependencies
IMPROVED the server - switched to the CPU-optimised server
IMPROVED the application deployment time
28 August 2019
ADDED the ability to search comments using the search box
FIXED a bug that was sending 'approval reminder' emails to people who were not authorised to approve requests.
FIXED a bug so that all users can filter time offs on the calendar page by team
FIXED a bug that was incorrectly double-charging some customers if they changed their credit card details in certain circumstances
IMPROVED placement of help button so that it doesn't get in the way of the new request button on mobile devices
IMPROVED formatting of dates on some browsers
30 July 2019
FIXED problem that stopped some time-offs from auto-completing
FIXED problem with the Zapier integration
FIXED some Google Analytics integration issues
IMPROVED promo code handling on sign up
OPTIMISED application performance - most pages load two or three times faster now
24 July 2019
FIXED 404 error on 'deleted' requests
FIXED Hide help button when printing a page
FIXED Sorting on employees
FIXED link attribute with more than 255 characters
FIXED 500 error on '+' search
FIXED bugs on company settings area
FIXED Missing approval range triggers an error when you create a request
ADDED Filter to show requests with or without attachments
ADDED Better automated testing for email digest
ADDED (Back) Filter for different types of time off requests
Other minor bug fixes
15 July 2019
FIXED an issue with the 'Viewer' permissions on teams which mean that some users were not able to see requests that they should have been able to see.
ADDED a Cost Centre filter for POs and Expenses
ADDED a Supplier filter for POs and Expenses
8 July 2019
IMPROVED date displays for requests outside the current year
IMPROVED ordering of requests in digest emails so similar requests are grouped together
FIXED bug with digest emails and deleted requests
FIXED bug that showed a 404 error when some users clicked 'Resend invite'
FIXED bug that triggered a 404 error with links to a deleted post
FIXED bug with our HubSpot integration
17 June 2019
We did a lot more work on our upcoming Points/Activities functionality.
FIXED the location of the help button on mobile devices to make it easier to use
FIXED a bug with saving a user profile when selecting 'one email per day'
ADDED the option for a hyperlink as a custom field for POs etc.
27 May 2019
FIXED a bug that triggered a 404 error page when uploading a photo to an employee record
FIXED a bug that allowed anyone to delete an employee photo whether they had admin or manager permissions or not
FIXED a bug that stopped customers reactivating a previously-cancelled company account (come back, all is forgiven)
FIXED a bug in the way the application was reporting trial account activations and other trial activity in our HubSpot marketing automation system
TIDIED UP the reporting of multiple changes to a single request in the daily email digest
18 May 2019
UPDATED our payment processes to get ready for Strong Customer Authentication. A big update for us.
INVESTIGATED a bug that sometimes caused a 'looping login' failure where people were constantly redirected to a login page instead of, you know, actually logging in.
FIXED a bug that stopped some users from adding comments to requests.
FIXED a bug that meant that 'viewing' permissions on teams were not correctly updated in some circumstances.
RESTORED some Google Analytics goal tracking that will help us understand where customers come from when they sign up. More customers = more development resources = better Turbine for everyone.
FIXED bug that made it fiddly to add or edit or delete approval ranges on the purchase and expense settings page.
18 April 2019
Mainly minor bug fixes in this release:
FIXED Can't make a supplier inactive without adding an email address
FIXED Problem when creating a team without a name
FIXED Clear promo-code
IMPROVED Email templates for exports
FIXED Improvement to the super-admin support tools around two-factor authentication
12 April 2019
We're switching to a new Help Scout system which will allow us to give better support. This migration should be completed in a matter of days.
We added two factor authentication as an option.
We added a limit of 1,000 records to the export feature to ensure system reliability and performance. For most users this is fine and you can always use the search and filter function to reduce the number of requests to get it under the 1,000 record limit.
However, for some users, it's important to be able to export more records so we have added an export-to-email option with support for unlimited records.
We have added a beta feature to allow Turbine customers to track 'activities'. This supports the points pricing model used by Articulate Marketing as an alternative to time sheets, Turbine's parent company. If you'd like to evaluate this please contact us and request beta access. This is a major update with new functionality.
Tutorials are displaying properly again for new customers.
We added a better filter on the calendar view.
We fixed the functionality for managers creating requests on behalf of their subordinates.
We made the side bar with the module icons scrollable so you can access everything on a smaller screen.
We fixed issues with the search functionality so that it is now possible to search for suppliers and other things again.
Many minor bug fixes, performance improvements and security updates.
20 December 2018
We have improved the way we update Turbine so that new features and bug fixes take much, much less time to publish. This will reduce downtime on the app during the update process.
Some fixes for Internet Explorer 11
Fixes for the employee settings page
We have added some options to the Features page which were previously only available via tech support requests, including control over whether teammates can see one another's availability, whether managers can create requests for their subordinates or add extra holiday days for their staff and a choice about whether employee-created suppliers should get added to the master list of approved suppliers or not.
Fixed a bug that stopped employee avatars (the little pictures of people) from showing properly in emails and in some screens in the app
Fixed a bug which stopped update notifications from being cleared once people clicked on them.
Fixed the formatting of the employee export CSV so that you get one row per employee in the spreadsheet.
Improved the display and alignment of the time off calendar
Removed some legacy PayPal payment code
Various cosmetic improvements
15 November 2018
We discovered an issue that prevented time off days accruing for some users between September 11 and November 2. We have fixed the bug and ensured that all users have had their balances correctly updated. We will be writing directly to affected companies.
Added an additional monitoring system to report 'cron' errors to spot if this kind of issue happens again much sooner.
We also fixed a bug that was preventing some users from seeing and updating their email preferences.
8 November 2018
Bug fix: some users were not able to download attachments in POs and other requests.
Bug fix: some users were not able to log in.
7 November 2018
2 November 2018
Fixed blackout days. On the time off settings it is possible to block out days of the week (e.g. Saturdays and Sundays) or specific days (e.g. Christmas day) to stop people being able to book a holiday on one of these days. We fixed some bugs on this section so that it works properly.
Small updates for user profiles. While admin users can edit data on the employee records page, set email settings and multiple account logins for users, individual users should not be able to do this.
Change in email settings save logic. Now email notification settings are saved with each change - no more 'save' button.
Fix data ranges on Firefox browsers.
Small style fixes for the sign up form. Validation errors are displayed in a neater way.
Updated permissions for 'teammates can see time offs'. This setting is not (yet) available to general users. You need to contact Turbine Support to enable it. But it allows teammates in the same team to see one another's time off requests. However, during beta testing, we found a number of performance and permissions problems which we have now fixed.
File data encryption at rest. We take security and privacy seriously at Turbine and we've implemented encryption at rest for uploaded attachments and images stored in Amazon S3.
Preparations for improved sign up process. We moved the marketing website to HubSpot recently. (See this article for more details.) And we're in the process of moving the sign up process for new customers to HubSpot too. This is an important part of that process.
11 October 2018
Summary emails
We've added notification summaries. Now you can get a single email every day with all your Turbine updates and requests. To activate this feature, select Email Settings on the menu under your name in the top right of the screen.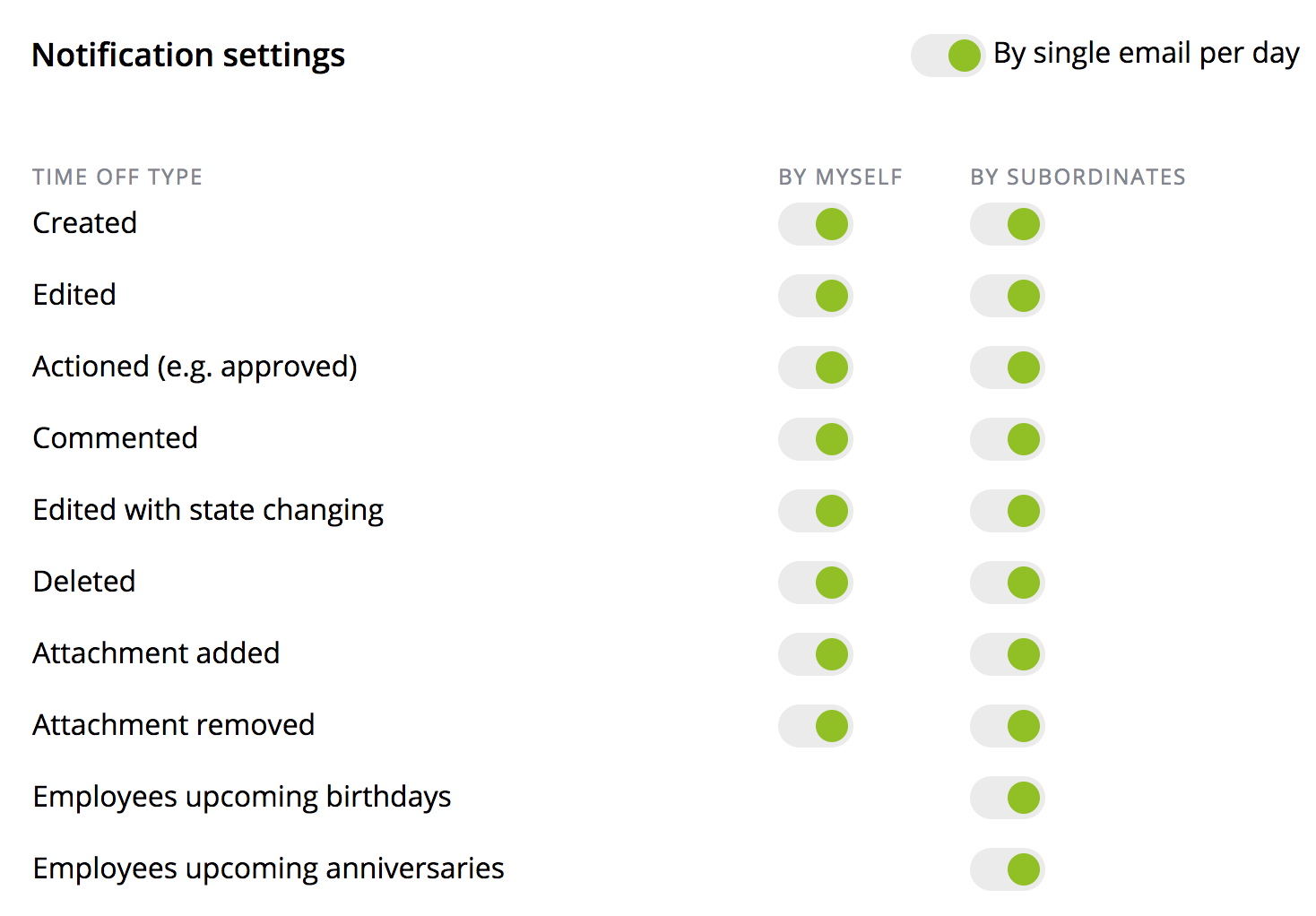 Fixed 404 error that occasionally happened downloading a PDF using an email link.
Added a third-party service to monitor our Cron jobs to make sure that we get an alert if there are any problems with time-based changes, such as marking taken time offs as actually taken.
Fixed the way non-contiguous dates are displayed in time off requests. It's probably easier to show you what we fixed than explain it. Here's a screenshot.